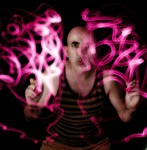 Albert Delamour has for years entranced viewers with a powerful command of color, an eye for beauty and the ability to tell a story through a single image that provokes many emotions. A pioneering artist, Delamour invented a layering process using resin and precious materials to create stunning results that elevate the traditional photograph.
After attending air force school, Delamour was trained in Paris' Louis Lumiere School of Cinema and Photography, as well as under master photographer Henri Coste. In 1998, Delamour moved to New York to further pursue his career as a photographer for fashion and advertising. However, he was invited instead to exhibit his personal work in a SoHo gallery and the captivating work quickly catapulted him into the art world.
Since then, Delamour has exhibited across the US as well as in France, Belgium, Malaysia, and China. His collectors include denizens of the United States, France, Spain, Italy, Germany, England, Belgium, the Netherlands, Switzerland, Canada, Argentina, Brazil, Singapore, Thailand, and China. An artist residency at the Chinese Europen Art Center in Xiamen, China, caused Delamour to reflect on his work, inspiring new subject matter.
Delamour's images take you on a journey of the senses where beauty, humor and poetry speak to you and about you. Initially drawn to the images' captivating sheen, you may be surprised upon further study of the pieces as new meanings are revealed.