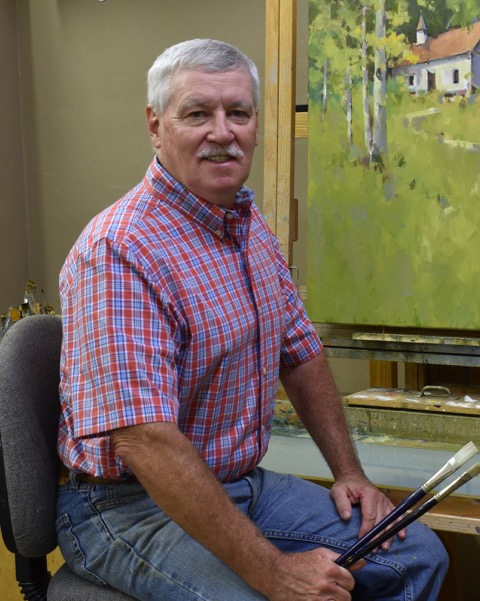 "My sincerest hope is that upon introspection, the viewer will gain a greater appreciation for the beauty that is our world." ~ R. McClure
In 2004 Southwest Art Magazine haled Rick McClure as an artist to watch, and the art world has been looking ever since! Even so, a wide audience of longtime devotees already embraced the artist and his talent. His recognition and achievements come as the fruit of long, hard work. An award-winning landscape painter and a dedicated teacher, Rick McClure has been painting professionally for more than forty years.
Born in Raton, New Mexico in 1954, Rick McClure is largely identified with Oklahoma where he received his education and where he continues to live and work. He is embraced as a native son, honored with his work hanging in the Oklahoma State Capitol Art Collection.
He found quick affirmation of his talent when, as a high school junior, an out-of-state collector purchased an entire exhibit of his work. Awarded an art scholarship to Southwestern Oklahoma State University, Rick McClure graduated with a Bachelor of Fine Arts degree. He continued his studies with post-graduate work in painting from North Texas State University and in sculpture from the University of Central Oklahoma. In addition, he enrolled in Plein Air Master Class Studies with Charles Sovek as well as Eric Michaels.
Mr. McClure has captured numerous awards including those at the "American Impressionists Society National Exhibition, the "71st Grand National Exhibition at the Salmagundi Club" and the Best of Show at the "Cincinnati Art Club's ViewPoint Exhibition. His free, painterly approach to recording locations in America and abroad has become popular with collectors nationwide.