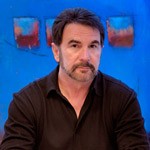 Poteet Victory is one of the most in-demand and collectable contemporary Native American artists in the world. Although Victory's work is abstract, his Cherokee-Choctaw influence still shines through his paintings. His work seems to emerge from a subconscious space and with a masterful command of composition, breathtaking color and his very own glossy finish, he evokes a powerful response in the viewer.
Born and raised in Idabel, Oklahoma, Victory was active in the rodeo circuit riding bulls and wild horses by the age of fifteen. It was then that Victory was first approached by his mentor, Harold Stevenson, who is famous for the controversial painting, The New Adam, that is now in the Guggenheim's permanent collection. Stevenson asked Victory to model for his painting "Alexander The Great", a modeling venture that lasted the entire summer and ignited Victory's desire to chase his dream of becoming the accomplished artist he is today.
After graduating high school and attending Oklahoma University through his junior year, Victory bought a one-way ticket to Hawaii. There he mastered silk screening, after which he moved to Dallas and established his own company "Divine Designs", which was the first T-shirt printing business of its kind. He began printing T-shirts for major record companies and other large corporations such as Frito Lay and Coca-Cola.
Once Victory had acquired the resources to pursue his long-time desire to paint, he sold his business in Dallas and moved to New York City. He attended the Art Students League for two years but ultimately refined his unique style of painting on his own through many years of habitude. While in NYC, Victory met Andy Warhol and mingled with those at Warhol's Factory while consulting with Warhol on silk screening. Victory was also invited to socialize with other eminent artists and socialites where he had the unique ability of surprising them with his down-to-earth insights.
Victory's passion and unique understanding of his work touches something truer and more compelling than most can articulate. He is intrigued by archetypes of myth, neuroscientific studies on how the brain stores and recalls images and the advantages of meditation. All of these ideas are consistent with his paintings and the concept of his newest creation, The Abbreviated Portrait Series.
After over thirty years of painting, Victory remains as authentic as ever and still has that Southeast Oklahoma charm. Although he prefers to work behind an easel, Victory will always be a "cowboy" at heart. His studio is located upstairs at Victory Contemporary in Santa Fe, New Mexico.