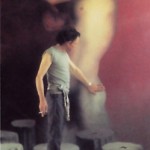 Born in Idabel, Oklahoma in 1929, Harold Stevenson is a self-taught artist best known for his work in the Solomon R. Guggenheim Museum in New York. Stevenson moved to New York at age 20 and immediately made friends with those in New York's elite social circles: Igor Stravinsky, Jackson Pollock, Elizabeth Arden, the Duke and Duchess of Windsor, Max Ernst and Christian Dior among others.
Most importantly, Stevenson quickly became a friend of Andy Warhol, a newcomer to New York. Stevenson was instrumental in helping Warhol get his first show. As Warhol began to make films, he named his first film Harold, and the two remained lifelong friends until Warhol's death.
Moving to Paris in 1952, Stevenson rose quickly in the European art scene as well. He was discovered by dealer Iris Curt. His paintings, at once provocative, erotic and monumental, gained much popularity and, along with his personal escapades, gained him celebrity attention.
Upon his return to New York in 1960, Stevenson was well-established as one of the world's most important artists and was well-positioned to play an active roll in the "New Realism" movement which, in the US, had its landmark show in 1962. The show featured twenty-nine artists, including Stevenson and Warhol, and Stevenson's contribution to the show was The Eye of Lightening Billy, a close-up portrait of an outlaw from his hometown, now available at McLarry Modern. These New Realists effectively displaced Abstract Expressionism, coming into fashion with dealers such as Leo Castelli, who became a friend to Stevenson as well.