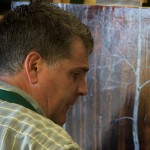 Tal Walton studied painting and sculpture at Brigham Young University in Provo, Utah, where he earned his Bachelor's and Master's Degrees in Fine Art. Walton paints in oil on a prepared marble ground highlighted with gold and metal leaf, which imparts luminosity to the pigments overlaying its surface. Tal also adds sandpaper marks and scratches to the gessoed surface prior to applying multiple glazes, giving it an aged, old appearance.
Walton hopes that the serenity of his paintings will draw the viewer in, and the complexity of his work will inspire lingering contemplation. In his paintings are not meant to imitate actual places but to recreate the universal idea of landscape and time.
Walton's techniques and spiritual beliefs impart an Old World feeling to his work, despite its contemporary simplicity. Walton believes that there is an underlying order to nature, an ideal that supersedes reality. His expression of variant realities, as well as the concepts of past, present and future are expressed in the vertical breaks and layers of gesso found in many of his paintings.
Walton currently lives and works in Fort Collins, Colorado where he finds balance between painting and activities with his family. Tal's art can be found in private, public and museum collections throughout the United States and Europe.
Artist Statement:
"I hope that when people look at my work, what they see calms them and illustrates the beauty that is all around us. Society has become very complicated. I believe Peace lies in simplicity."